10 Jewelry Moments of 2022 That We Can't Stop Thinking About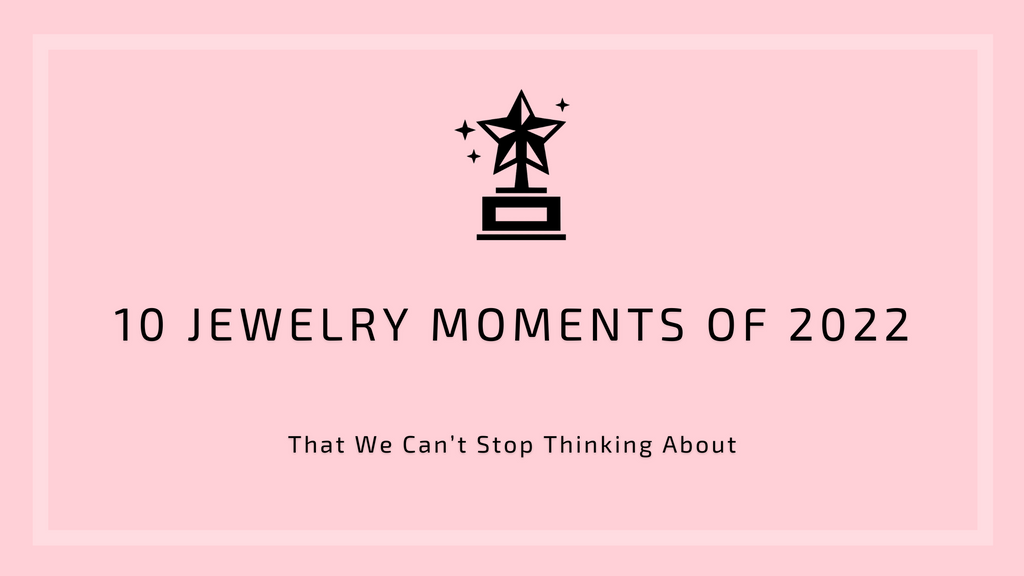 The year 2022 is coming to an end. It's been frantic, with industries shifting to harmonize with delicate times. We were, however, treated to some red-carpet jewelry moments and bold style choices that we could not get out of our heads. From diamonds to emeralds, bead work to tiaras, and everything in between, here are 10 jewelry moments from 2022 that we can't stop thinking about.
Portuguese model Sara Sampaio was a vision during this year's Cannes Film Festival. We are in love with the jewelry she wore to the red carpet of Forever Young (Les Amandiers). Her diamond statement necklace by Messika resembles an abstract shirt collar. The show-stopping piece is accented by other diamond jewelry from the brand's high collections. Her ear cuff with a hanging diamond is a modern touch that looks great with her slicked back hair.
English actress Florence Pugh is always on point. She perfectly accessorized her gelled hair at the 2022 British Academy Film Awards (BAFTAs) with a septum ring by Maria Tash, statement feather earrings by Boucheron and gemstones scattered throughout her hair. A standout detail of this look is how she styled her necklace: wrapped around her neck to look like a layered choker, with a pendant that matches her earrings hanging along her back. Miss Flo definitely made sure her look was interesting from every angle.
Actress and model Jodie Turner-Smith has quickly become one of our red carpet favorites. This look from the premiere of White Noise at the Venice Film Festival is remarkable. The plunging neckline of her Gucci dress left the perfect space for Jodie to layer two diamond and emerald necklaces from Gucci's High Jewelry Hortus Deliciarum collection. Top it off with green opera gloves and gemstones in your hair for an unforgettable ensemble.
American actress Kristen Stewart has been making strides personally and professionally. It's no surprise that she's also smashing it fashion-wise too (she is, after all, the face of Chanel). Her Oscars 2022 look was an edgy shorts suit with pieces from Chanel's high jewelry collection. A one of a kind, 18-karat white gold necklace featuring onyx, spinel, and diamonds was suspended between her unbuttoned blouse. We hope she keeps showcasing her unique personal style.
We always expect amazing looks at the Met Gala, and this year's festivity provided just that. Activist and model Quannah Chasinghorse advocates for more Indigenous representation in fashion. She certainly accomplished that with this look, donning intricate jewelry and feather hairpieces by Lenise Omeasoo, a Blackfeet and Cree artist. We are captivated by the way her neck piece frames the curves of her neckline. The hints of blue in the beadwork and her makeup create a harmonized final look. Stunning.
We love a good theme. Zendaya's clothing and accessories were a playful nod to her role at the Spider-Man: No Way Home premiere in London. Her Alexander McQueen look is embellished with crystals that resembled spider web. Our favorite components are her white gold Jacob & Co. earrings that feature pearl spiders casting diamond webs. She took a concept that could have felt costume and made it work flawlessly.
Kate Middleton, the Princess of Wales, stunned at the recent Diplomatic Corps Reception. She wore the Lotus Flower Tiara, a piece upcycled from a diamond and pearl necklace by Garrard that belonged to the Queen Mother. It was later dismantled into the Tiara seen here on Kate. Kate also accessorized with the late Queen Elizabeth II's timeless diamond orbital earrings. She pinned the Royal Victorian Order sash with a Bentley & Skinner art deco diamond set brooch. Modern royalty personified.
It's uncommon these days to see jewelry styled in a unique and daring way. For this year's Gilded Glamour Met Gala, model Karlie Kloss wore pieces from Muzo including earrings, rings, and a diamond hair ornament. The addition of the long diamond encrusted hair jewels is an expected twist on her textured ponytail - and it's making us wanting to add jewelry to our hairstyles too.
Actress Blake Lively stuck to the 2022 Met Gala's Gilded Glamour motif, with a tiara on her head and statement earrings fit for a 19th century socialite. Her New York City inspired jewels were custom-made by Lorraine Schwartz. Inspired by the Statue of Liberty, the tiara's seven tiers represented the seven rays on the Statue of Liberty's crown and boasts colored diamonds and Paraíba tourmaline. The matching earrings, also by Schwartz, feature two massive green Colombian emeralds. The pieces are set in copper, an unusual choice for high jewelry, but the same metal Lady Liberty was forged in.
We know this look isn't for everyone, and we must admit we wouldn't necessarily wear these 'ear'rings - but we have to admit this design is unforgettable. Artist Doja Cat worked with Schiaparelli's creative director Daniel Roseberry on her 2022 Billboard Music Awards ensemble. Her gold-toned accessories are truly wearable art, even her earrings have hoops on. The world needs risk-taking style like this, she is looking like a futuristic Goddess.
Did we miss any of your favorite 2022 jewelry moments? As design-lovers and jewelers, the True Bijoux team is constantly keeping our eye out for innovative styling and concepts. We're manifesting an amazing 2023 filled with creative and fulfilling projects. Please feel free to reach out to us for any of your jewelry and engagement ring needs.
Click here to book an appointment with us,
and check out our
Instagram page here
. Cheers to a happy new year 🥂✨