Allow Us To Re-Introduce Thomas Sabo: One of Our Favorite Designer Silver Jewelry Brands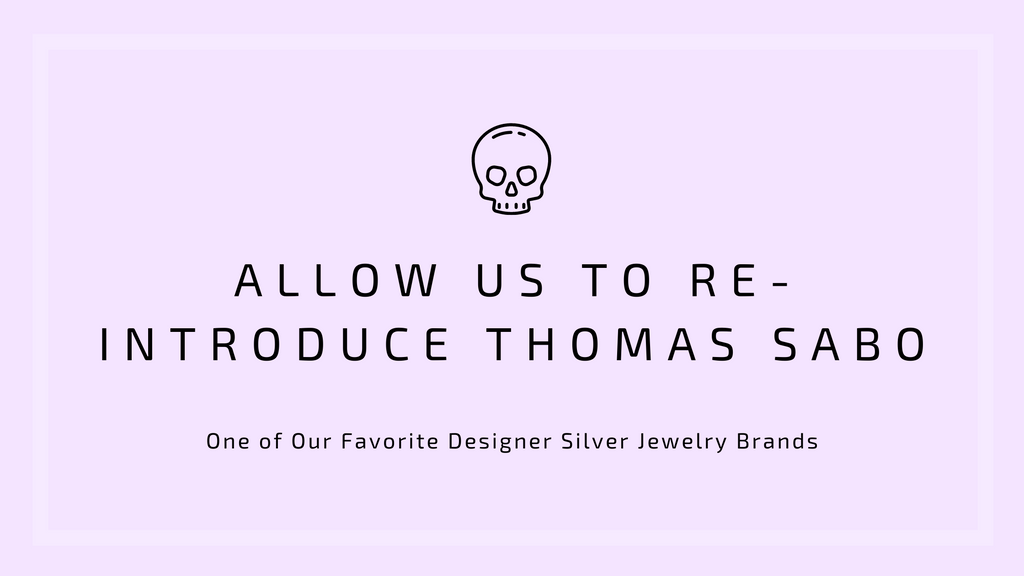 We have been proud Canadian partners of German sterling silver accessory brand Thomas Sabo for a few years now. With the launch of their new Charming Collection, we decided to provide a brief refresher on this iconic brand for anyone new to True Bijoux.


Entrepreneur Thomas Sabo was a trained  engineer when he traveled to Asia with the aim of sourcing well-crafted yet interesting sterling silver jewelry. After falling in love with the process of traditional goldsmithing  in Asia,  he went back to Germany and officially started his own jewelry business in 1984.


His business quickly blew up. Thomas Sabo became known for their high-end sterling silver jewelry within a period of just a few years. People loved the affordable luxury of the pieces. Now, Thomas Sabo is one of the leading global brands designing, selling and distributing not only jewelry, but watches and beauty products as well.


Their company headquarters is still in Germany,  in Lauf an der Pegnitz, a lovely little town. With around 500 employees, this is essentially the heart of the company. The creative, marketing/sales and distribution divisions are all located within this headquarters. Global activities are controlled and managed there as well, with Sabo himself heading operations even now.


This affordable-yet-luxury jewelry is now spread out in about 320 stores across 75 countries, with more than 2,800 trade partners worldwide and counting.  Whether a sophisticated dragon ornament crafted from sterling silver, or a one of a kind bracelet with hand-cut stones, Thomas Sabo still goes hand in hand with unique yet quality design-just as Sabo dreamed when he started this venture in 1984. We adore this brand and are excited to be a part of their continued success.
Thomas Sabo Charming Collection 
When you hear the name Thomas Sabo, you might think of skull jewelry, or the array of charms in their Thomas Sabo Charm Club. Their Charming Collection ( Autumn/Winter 2020) however is a little different - designed with both skulls and colorful gems to allow us to mix & match however we please.
Sabo expanded their Charm Club universe to include more silver jewelry on 1st August, 2020, with pieces available in official partner stores (like us) and online. The collection features dainty, delicate jewelry pieces that can make a great impact in your daily look.
With around 300 new designs in the Charming Collection, you get basics like clicker hoops, and add-ons such as earrings-pendants, charms, and ear cuffs that allow you to personalize your look.
Style your new little pieces however you want, there is almost a limitless variety of combinations. Most styles are sold individually, so you have freedom to create asymmetric curated ears to suit your style and mood.
" The THOMAS SABO Charm Club is a constantly evolving collection: not only it reflects current jewelry trends, but it also interprets the wishes of our customers. I look forward to continuing this story with the addition of the Charming Collection.'"- Founder Thomas Sabo
 click to shop

Thomas Sabo Sterling Silver Baguette Single Stud Earring C$33.00
 
Thomas Sabo Sterling Silver And CZ Flower Stud Single Earring C$20.00
 

Thomas Sabo Sterling Silver And CZ Geometric Stud Single Earring C$24.00

Thomas Sabo Sterling Silver Dazzling Star Stud Single Earring C$20.00

Thomas Sabo Sterling Silver & Pink Opal Colour Effect Single Sud Earring C$37.00
 
Thomas Sabo Sterling Silver Pink Opal Effect Single Ear Climber C$33.00

Thomas Sabo Sterling Silver 13.5mm Hoop Single Earring

Thomas Sabo Sterling Silver CZ Accent 13.5mm Hoop Single Earring
Thomas Sabo Sterling Silver CZ Trinity Single Earring Pendant C$26.50
Thomas Sabo Sterling Silver & Pearl Single Earring Pendant C26.50
Thomas Sabo Sterling Silver & Pearl Single Earring Pendant C$40.00

Thomas Sabo Sterling Silver CZ Moon Single Earring Pendant C$20.00

Thomas Sabo Sterling Silver 3 Stone Dangle Stud Single Earring C$40.00

Thomas Sabo Sterling Silver Baguette Chain Drop Single Stud Earring C$52.00

Thomas Sabo Sterling Silver Baguette Stone Dangle Single Stud Earring C$65.00+

Thomas Sabo Sterling Silver And Pink Opal Colour Effect Single Hoop Earring C$65.00

Thomas Sabo Sterling Silver Baguette Single Hoop Earring C$52.00

Thomas Sabo Sterling Silver & Multi Colour Baguette Single Hoop Earring C$78.00

Thomas Sabo Sterling Silver Chunky Baguette Stone Single Hoop Earring C$78.00

Thomas Sabo Sterling Silver Dots Chain Single Earring Pendant C$26.50

Thomas Sabo Sterling Silver X Cuff Single Earring C$24.00

Thomas Sabo Sterling Silver Dots Climber Stud Earrings C$40.00

Thomas Sabo Sterling Silver With White Baguette Stones Necklace C$174.00

Thomas Sabo Sterling Silver Disk Necklace C$149.00

Thomas Sabo Sterling Silver Double Layer Disk Necklace C$184.00

Thomas Sabo Sterling Silver & Pink Opal Effect Dangle Necklace C$184.00

Thomas Sabo Sterling Silver Pink Opal Effect & White Stone Curve Necklace C$119.00

Thomas Sabo Sterling Silver And Baguette Stone Bracelet C$129.00+

Thomas Sabo Sterling Silver Shimmering Pink Opal Colour Effect Bracelet C$129.00
Source - www.thomassabo.com