Everything You Need to Know About Curated Ears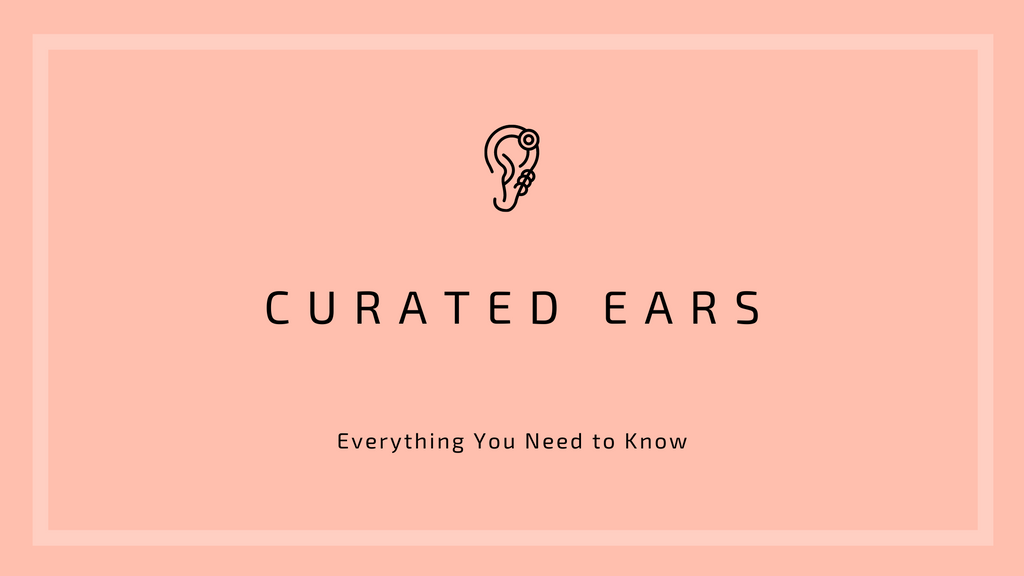 Over the last few months of scrolling endlessly through our Pinterest & Instagram feeds, we noticed lots of ears coated in unique & asymmetric earrings. We've become kind of obsessed with seeing all the individual vibes of these creations. This edgy-ultra cool look is having a moment - it's no surprise that celebrities like Scarlett Johansson and Cynthia Erivo have been showcasing their style through curated ears. 
This new curated ear, or "ear art" as some people refer to the look, really is something else. These earrings feature flat back studs, mini-hoops, petite diamonds and fun coloured stone studs. The options are endless to create your own individualized looks. We were so impressed, we brought in our own collection of
single earrings from Thomas Sabo
.
So, What is a Curated Ear? 
The curated ear is an invention of renowned New-York jewelry & piercing designer Maria Tash. It is an individualized collection of multiple piercings and jewelry as display of art. Use your unique style and anatomy to craft a bedazzled masterpiece. The general rule of thumb is to adorn your ears asymmetrically—after all no two ears are the same! 
Scarlett Johansson & Cynthia Erivo at the SAG Awards Red Carpet 2020
♥ Aesthetic Tips ✶
Our advice for those starting to play with curated ears:
Asymmetrical & Cohesive
Imagine both your ears as a canvas split in half. Although one side of the painting is different from the other, if you brought the two halves together, the colours and style would be cohesive. 
Theme
You'll need a theme for your painting! What are your favourite jewelry pieces right now? The diamonds from grandma, rose gold hoops & yellow gold hoops every other day? We say, mix your metal colors! Would you call your style minimalist? Experiment with textured gold to add some subtle but interesting detail. 
Here are some curated ear designs below to give you an idea:
This curation is inspired by nature and yellow gold with a mix of hoops and studs
This curation is inspired by yellow/ white gold, diamonds, hoops and studs
Just Have Fun with It
One of the best things about asymmetry and curated ears is single studs. Go grab your jewelry box for all your favourite mismatched pieces that you'll "find one day". Lay them out and see if you can see an asymmetrical theme! This is a great way to help you visualize curated ear ideas. It's all about self expression and creative freedom, just have fun with it!
♥ Care Tips ✶Stud Style 
Push/ butterfly back earrings that leave the post exposed in the back of the ear are best for first or second holes that you can remove easily before sleeping. These posts press into the back of the head while sleeping. Flat backs or disks are recommended for any piercings you want to wear long term – sleep – and leave more space in the back if you are stacking multiple earrings
Flat Back vs. Butterfly Back
Dry Jewelry
Since curated ears display a wide range of jewelry and is meant to be worn more long term, its important to care for them properly. Avoid going to sleep with wet ears because the moisture under the metal could cause skin irritation. Blow drying on warm should do the trick.
We hope this helped you learn about the latest in earring trends. How exciting is it that this industry is ever-evolving… and we're here to keep you up to date with us. Keep your eyes out for a Halloween 2020 contest taking place October 29-31 on our website.
Celebrity photo source:
https://www.refinery29.com/en-ca/2020/01/9240357/celebrity-earrings-multiple-piercings-trend


Curated Ears Rendering source:
Keri Lee Fischer


Earring photo source:
https://www.mariatash.com/jewelry/large-three-ball-trinity-earstud.html
https://www.mariatash.com/jewelry/7mm-polished-round-bar-threaded-stud.html