How Late is Too Late? Our Guide to Engagement Ring Shopping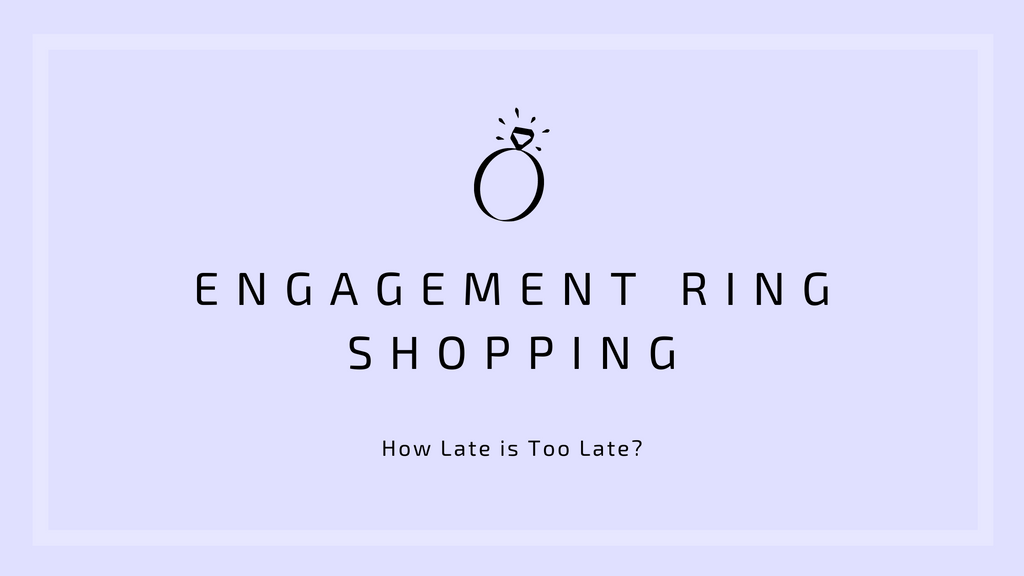 We absolutely love helping our clients find the perfect engagement ring for their proposal 😌 We have a wide variety of options for you to choose from in our carefully curated showcases. Every now and then, nothing in our cases speaks to our client: a different colour of gold is requested, a different kind of centre stone is desired, a different diamond cut is ideal, etc. That's okay - we can source or make any ring for you... although it does take 4-6 weeks to complete the piece to our standards.
 
This is when we're occasionally met with moments of frustration. "I wanted to propose next weekend, can you please rush it for me?" is a common response we hear. We love passion; we love spontaneity; we love romantic gestures; but we also love selling quality products that are perfect for you, and will last a lifetime. We have a few options (with varying timelines) for you if nothing in our collection is exactly what you envisioned.
Firstly, we can alter items we have in stock. This can mean three things:
We order your desired version from the designer (i.e. Gabriel & Co. New York),
We alter a ring that's in stock (i.e. replacing a sapphire to a diamond),
We remake the ring with your desired alterations (i.e. recreate a style in yellow gold instead of white).
What makes Bijoux unique is that we have access to a fully functional factory within our walls plus our sister store, Howard Fine Jewellers, has equipment and master goldsmiths on-site. This means we are capable of redesigning or designing your ring without outsourcing. It's all done in-house 😊. Altering an existing item is always faster than ordering or creating a brand new one.

The other alternative to buying from our current stock is creating a custom design. Semi-custom is when we modify an existing design. We can often order the ring or the components and our goldsmiths will assemble and polish it for you.

Full custom, however, is another story. It's a careful process with many steps to ensure perfection. First, we present the client with sketches or renderings of potential designs for them to choose from based on their requests. Then, we digitize it through a CAD program; you can see the rendering before we print it in 3D resin. Once printed, you can actually come see the to-scale 3D model to touch, change, or approve. Then, we cast the ring in-house using our equipment. Next, our goldsmiths and gem-setters set your stones and polish your metal. Finally we are left with a one-of-a-kind custom piece of jewelry, but one can see why it takes 4-6 weeks to complete.

This is why we recommend browsing for engagement rings a few months before you plan on popping the question. Unless you fall in love with something right out of the showcase (the options are plenty, and beautiful), some cushion-time is often required. Jewelers can be miracle workers, we've rushed many jobs before, but working within a reasonable timeline is ideal.

Stop by our Gabriel & Co. New York Trunk Show this April 3 & 4 for 1000s of engagement and fine jewelry styles. We will also have loose Diamonds & Sapphires to be set into a ring if desired. All things considered, if you have a special proposal date in mind, kindly come see us a few months prior so we can ensure your experience is flawless. To all the last minute shoppers: challenge accepted 😘