The Ultimate Guide to Engagement Ring Styles and Trends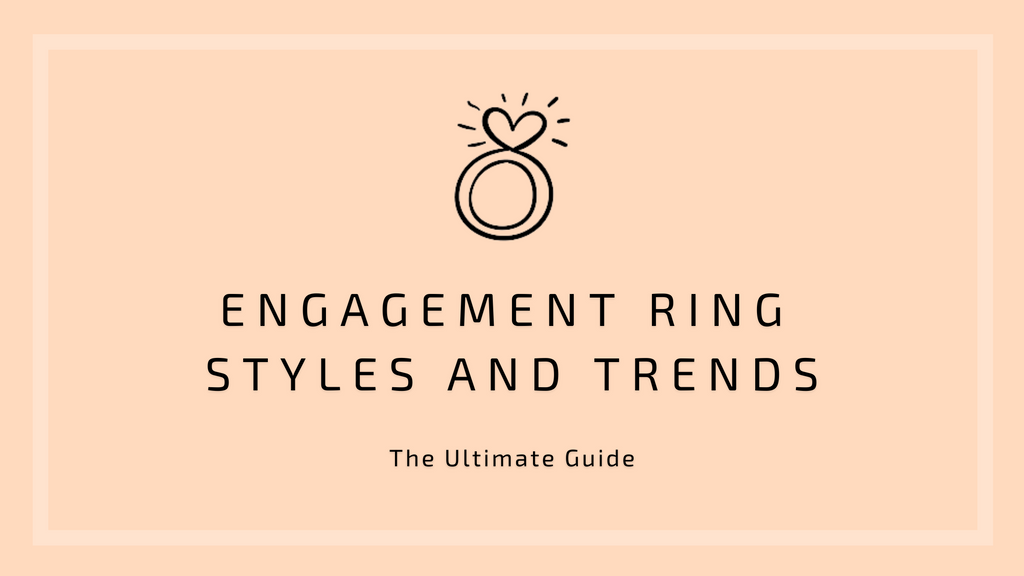 Getting engaged is such an exciting moment in a person's life. It's a time filled with love, joy, and excitement. Before the wedding planning begins, there's an important decision that needs to be made: the engagement ring.
Your ring is a symbol of love, but also a piece of jewelry that will be cherished for years to come. With so many engagement ring styles and trends to choose from, it can be overwhelming to navigate the options.
In this blog, we're going to explore some engagement ring styles and trends to help you find the perfect ring that suits your style and personality. Get comfortable, pour yourself a cup of tea (or champagne) and let's dive right in!
Solitaire Rings
Let's start with a classic - the solitaire ring. This timeless engagement ring style features a single diamond or gemstone taking center stage on a plain band. Solitaire rings are perfect for those who prefer a minimalist look, but they're also incredibly versatile. You can make your engagement ring uniquely yours by personalizing it with a diamond or gemstone in any shape, cut, or color you desire. Solitaire rings also look great with many different styles of wedding bands, giving you the freedom to go simple or intricate when choosing the accompanying band for your ring. 
Halo Rings
If you want a little more bling, a halo ring might be just what you're looking for. This style features a center diamond or gemstone surrounded by a "halo" of smaller diamonds or gemstones, adding extra sparkle to the ring. Halo engagement rings can have an antique-inspired vibe or a clean and classic look. Not only does this design add extra sparkle and dimension to the ring, but it also creates the illusion of a larger center stone without the higher cost 
Three Stone Rings
A three-stone ring is not only aesthetically beautiful, but has symbolic meaning as well. The design features a center diamond or gemstone flanked by two smaller diamonds or gemstones on either side. The trio of diamonds or gemstones represents the past, present, and future of your relationship. Three-stone rings are also incredibly versatile, allowing you to choose a design with diamonds and gems in different shapes and sizes. Whether you prefer a classic round diamond or a unique pear-shaped diamond, a three-stone ring can accommodate your style. Overall, the elegance and timelessness of the three stone design make it a popular and enduring choice for engagement rings.
Vintage Rings
Vintage engagement rings are a wonderful choice for those who love history and want a piece that tells a story. These rings often feature details such as filigree, milgrain, and engraving. Vintage rings can come in a variety of styles, from Art Deco to Victorian, and often feature a center diamond or gemstone surrounded by smaller accent stones. Older rings may feature unique diamond cuts, such as old mine cuts, old european cuts or rose cuts.
The beauty of vintage engagement rings is not only in their intricate and detailed designs, but also in their rarity and uniqueness. While they may require a bit more care and maintenance than newer rings, they're a unique and eco-friendly choice for an engagement ring. 
Colored Diamond or Gemstone Rings 
Who says your engagement ring has to be a white diamond? Colored diamond or gemstone engagement rings have been growing in popularity in recent years, with more and more couples opting for non-traditional choices. Popular colors include blue, yellow, pink, and green diamonds also available in lab grown diamonds, as well as gemstones such as sapphires, rubies, and emeralds. One of the most iconic is the blue sapphire and diamond ring worn by Princess Diana and now Kate Middleton. Colored stones offer a unique and individual look, allowing the wearer to showcase their personality and style. 
Unique Shapes and Cuts 
Finally, if you really want to stand out, consider a ring with a unique diamond or gemstone shape. Oval, pear-shaped, emerald and marquise diamonds are all popular choices for engagement rings, as they offer a unique look that's still elegant and sophisticated. You can also find engagement rings with non-traditional shapes, such as hexagons or triangles. 
No matter what style you choose, remember that your engagement ring should reflect your personality and your love for your partner. Don't be afraid to mix and match styles or create a custom ring that's truly one-of-a-kind. After all, your engagement ring is a symbol of your love and commitment - it should be as special as the two of you. Click here to browse our online selection of engagement rings, or book an appointment with us and let us help you find the perfect ring.