FAQ: Engagement & Wedding Ring Shopping during Covid-19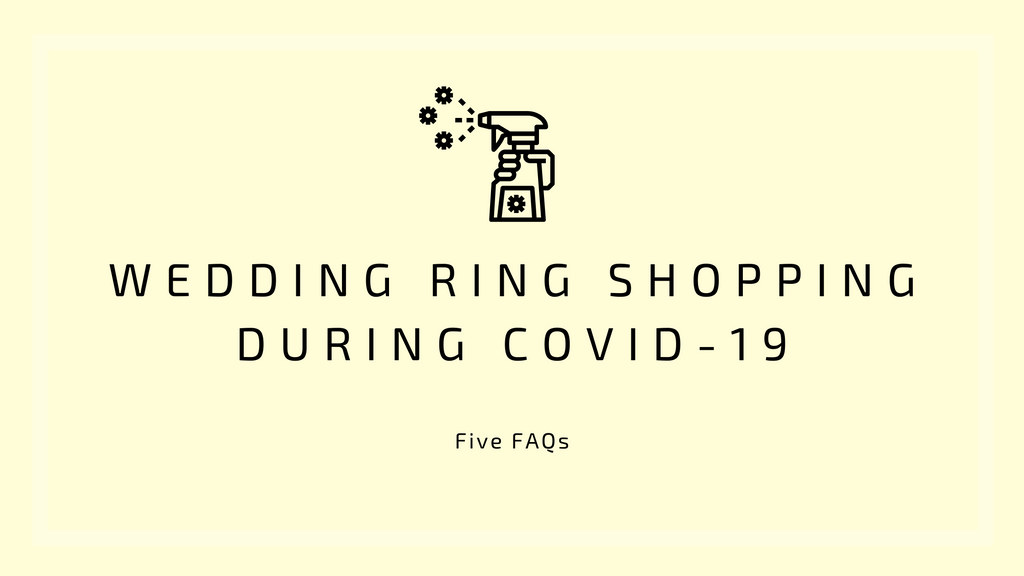 Saying the past year has been an adaptation is an understatement. Industries throughout the world have been changing & problem solving to keep pace with the new normal we are currently facing. One of the industries facing major change is the wedding industry. From socially distant weddings to skype ceremonies, couples in love have been getting creative when it comes to marriage in 2021.
At True Bijoux, we believe shopping for engagement rings and wedding bands should be a special experience, COVID-19 or not. We've compiled a list of the top 5 frequently asked questions we get when it comes to engagement and wedding ring shopping during COVID-19.
Q: Where Do I Start?
A:
Investing in a fine piece of jewelry like 
an engagement ring
can be overwhelming. Lots of clients wonder where to begin, w
e have a few solutions for you.
It can simply start with a phone call, text, DM or email. 
True Bijoux has remained staffed throughout the pandemic. We are ready & able to help you with any inquiries you may have.. there is no such thing as a stupid question!
Another good place to start is by gathering inspiration and seeking out designs you like from Pinterest, Instagram, celebrities, etc. Our team will provide you with options inspired by the styles you love.
 Q: How Can I See the Jewelry?
A:
Once again we have a few ways you can see a piece before you commit to buying:
Curb-Side Assistance:
we can pull the item(s) for you and you can come see us at
206 Sparks Street.
Samples:
we have lots of samples if you are unsure what style
ring you like. Samples are rings that look like they're made of
precious materials. This allows us to pull multiple styles so you
can see them on your hand and assess what suits you most. For
example, try on an oval-cut, round-cut and emerald-cut engagement
ring to see which shape you're in love with before moving
forward.
Interested in custom design? Work with our team via
zoom, email
or
phone
to design your dream engagement ring. A
3D rendering
is build, where adjustments can be made upon your approval. We then supply a
wax model
that you can come touch & try on, or we can be ship it right to you.
We are a local business with flexible hours! If you need a special appointment when we are closed, or live out of town, contact us & we will work out a solution.
Q: Do I Have to Commit?
A:
At True Bijoux, we do not work on commission; it's a team environment where we all work together to assure every client is happy. Everyone's process is different, and we have seen it all. Initial consultations are free - there is no obligation. Once we have agreed on a style you love, then we ask for a deposit so we can start the process of getting your perfect ring. You do not have to pay in full until the ring is completed and you adore it. * some exemptions apply
Q: What if My Partner Doesn't Like the Ring I have Chosen?
A:
A
s stated in question 3, our process assures that you will love the ring you picked… but what if your partner does not? Our store has an exchange program. This means that we will take back the ring in question & you'll have a credit to put towards a new purchase. Between our fine jewelry, estate & custom abilities, we will keep looking until you both love your choice.
Q: Does the Ring Have a Warranty?
A:
All new rings from True Bijoux have a manufacturing warranty (this excludes our pre-owned jewelry). Manufacturing defects are 100% covered. This occurs when there is an unintentional flaw in the ring that affects its durability & longevity. For example, some casted jewelry may have weak point due to air bubbles that can form during the casting process that are not visible. Normal 'Wear and Tear' is not covered by warranty.
We recommend getting any precious jewelry, jewelry with gemstones & engagement rings checked by a True Bijoux professional at least once a year. For all True Bijoux purchases this service is complimentary. This  process allows us to detect any adjustments that may be needed, avoiding a potentially costly repair.
We hope these FAQs helped with any COVID-19 engagement or wedding ring concerns you've had. We have found that the

COVID-19

engagement ring process surprisingly fun, and we have become very good at pivoting to give you an amazing experience. Click here to contact us with questions. Stay safe everyone!