Sustainable shopping: Why you should shop, Vintage, Estate & Pre-owned jewelry this holiday season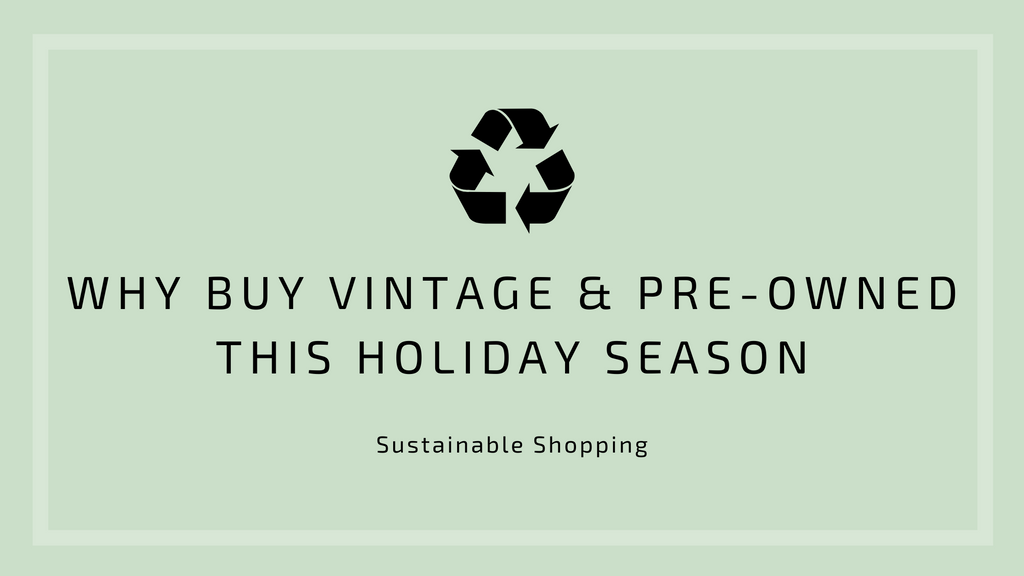 2021 has been a wild ride, but one thing remains the same, the holiday season is just around the corner! In these unusual times, more and more people want to shop small, support local, and reduce their carbon footprint. We at True Bijoux (a small, local Canadian shop ♥) sell a variety of jewelry pieces ranging from big and small designers, to vintage and pre-owned items. The latter is an amazing option for those who want to shop sustainably this year. Keep reading to learn why we think you should shop vintage, estate & pre-owned jewelry this holiday season.
1. Vintage Jewelry is Rare & Collectable
We are thrilled to carry authentic vintage jewelry at True Bijoux. These are unique pieces that are 50+ years old. Our collection features stunning jewelry and gems from design eras such as Victorian, Art Nouveau, and Art Deco. This means that these little treasures have been preserved and cherished for decades - how cool is that? Nothing beats finding a piece that was made in another era, using the techniques, material & craftsmanship of days past. You are giving someone a piece of history.
2. The Prices are Right
A major factor when holiday shopping is sticking to your budget. Good news! Not only are these jewelry treasures rare, but well priced too. We sell the majority of our vintage and estate pieces at about half of their appraised value. This means you're able to buy genuine gold, platinum, diamond and gemstone jewelry for less than if you purchased them brand new. Keep in mind we have both vintage and modern pre-loved items to choose from, from heirloom cameos to classic gold chains.
3. Eco-Friendly

There is no denying that jewelry made from precious materials undergoes a complex process involving mining and production, and these actions can cause environmental damage. Purchasing second hand is a more sustainable option because you are prolonging the life of an item created in the past. This means no new materials or energy will be used, and assures that the resources that were once used was not done in vain. Remember the three R's: reduce, reuse, recycle. ♻
4. Quality of Production & Design

Just because something is older or second-hand, does not mean it is bad quality. As a matter of fact, older jewelry items are often meticulously handmade and better quality than some new machine-made pieces sold today. This is also because the price of materials was less in the past, while the quality of training and craftsmanship was greater. You also have your pick between older whimsical designs and contemporary minimalist ones. It's a win-win.
5. One of a Kind Gifts

In the age of TikTok and Instagram, we are constantly berated with advertisements featuring the latest trends. Though we love to keep up with what's new and exciting, there is something personal about hand-selecting a gift that isn't from the latest designer drop. In the past, mass-produced designs were not as common. This means many of our pieces are one of a kind, just like the person you're shopping for. With estate or vintage jewelry, we become the next chapter of this item's history.


All in all, gifting second hand jewelry means you have taken the time to select something unique for someone you love. You are also buying at great value, giving new life to a piece, and reducing potential environmental damage. Hunt for vintage treasures in our estate section online or in-store. Click here to make an appointment with us, we can pull specific pre-loved items for you to choose from. Let us be your personal shoppers this Christmas season.
Our Current Vintage & Favorite Pre-Loved Items: