From Rough Cuts to Coloured Stones: Our Favourite Alternative Engagement Ring Options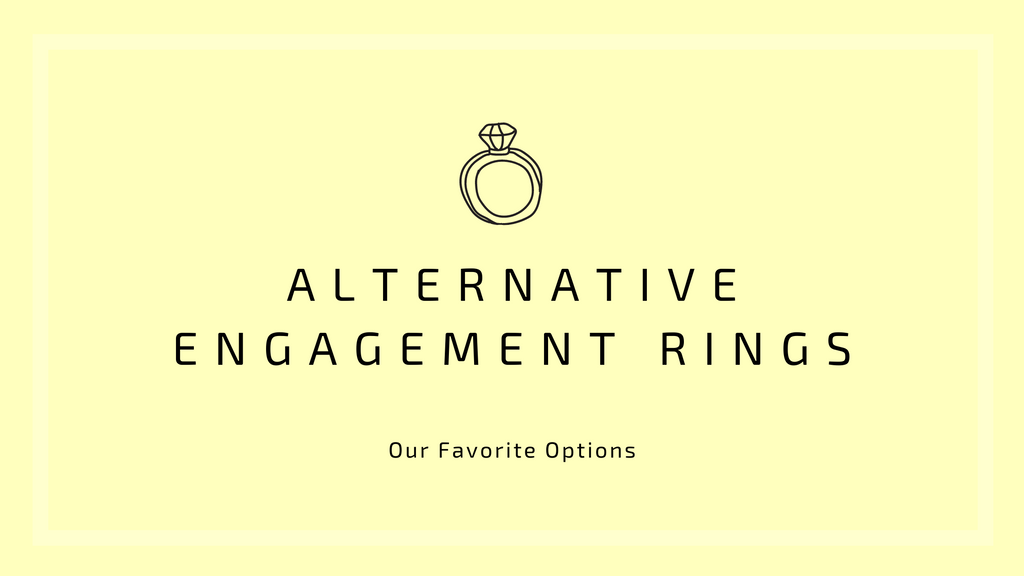 Solitaires, cushion cuts, the three c's - if you're shopping for an engagement ring, or at the stage where your Pinterest board is overflowing, then you are getting familiar with the many elements that go into a stunning engagement ring.
 
Already pinned your dream engagement ring? Hate to break it to you, but there may be some unique elements and options you've overlooked. Not only do these alternative engagement rings stand out from the crowd, more often than not they are easier on your wallet too.

As a boutique stacked with on-site jewelers, gemologists, goldsmiths, and designers, we get to see all kinds of engagement rings. Here are some of the most uncommon and overlooked alternative engagement ring ideas that we love.

 
Raw Diamonds
Raw diamonds have been extremely popular the past few years. We can see why, there is something special about wearing something right from the earth without too much human intervention. Additionally, rough cuts embrace the variety of colours that diamonds form: white, cream, yellow, black, green, cognac, pink or red. Aside from the impressive colours, interesting inclusions give each rough cut diamond a one-of-a-kind look.

Rough cuts are perfect for the bride who appreciates the integrity, strength, and brilliance of a diamond but wants a more organic and unique ring. There is no question; every rough cut diamond is different, resulting in a ring that is timeless in its own way.
Coloured Stones
Coloured stones in engagement rings have become a popular choice over the past few years (eyes are on you, Kate Middleton!), and we understand the appeal. A certain gemstone or colour may suit you more, or have you an emotional connection to a certain stone or colour. Your engagement ring is a piece you will cherish forever, and we totally understand wanting to add a personal touch. However, whether you're opting for a coloured diamond or coloured stone, be sure to verify its lasting qualities. Not all stones are created equal, and there's a reason why diamonds and sapphires are chosen for lifetime rings (they are the hardest gemstones out there) - read more about which gemstones are best for engagement rings in our
previous gemstone post!
Estate or Vintage
Our growing estate collection is full of sentimental treasures, and we love that there is a great story behind each piece. For an eco-conscious or romance-loving bride, estate and vintage jewelry is often highly detailed and comes at a fraction of the cost of a new ring. Coloured stones, unique settings, old european-cut diamonds – you never know what you'll find with estate or vintage rings... and it's an especially enjoyable shopping process - a true treasure hunt!
Custom
No need to run away when you hear the word custom! As all of the above ideas can attest to, alternative engagement rings do not have to break the bank. In fact, custom is the best way to ensure you get exactly what you want within your budget, because you get to work closely with an expert every step of the way. 
Our experienced team can guide you in every decision. From metal and stone choice, to designs that work perfectly with your lifestyle. Whether it's build a custom ring from scratch, or having a family heirloom re-designed to suit you, custom is an option that is always at the top of our suggestions for unique engagement rings.

 
Feeling inspired to start the search for your own alternative engagement ring? We are happy to help you in any way we can. Stop by the store or give us a call with any questions you may have - we'll put the coffee on!