Six Top Engagement Ring Trends for 2019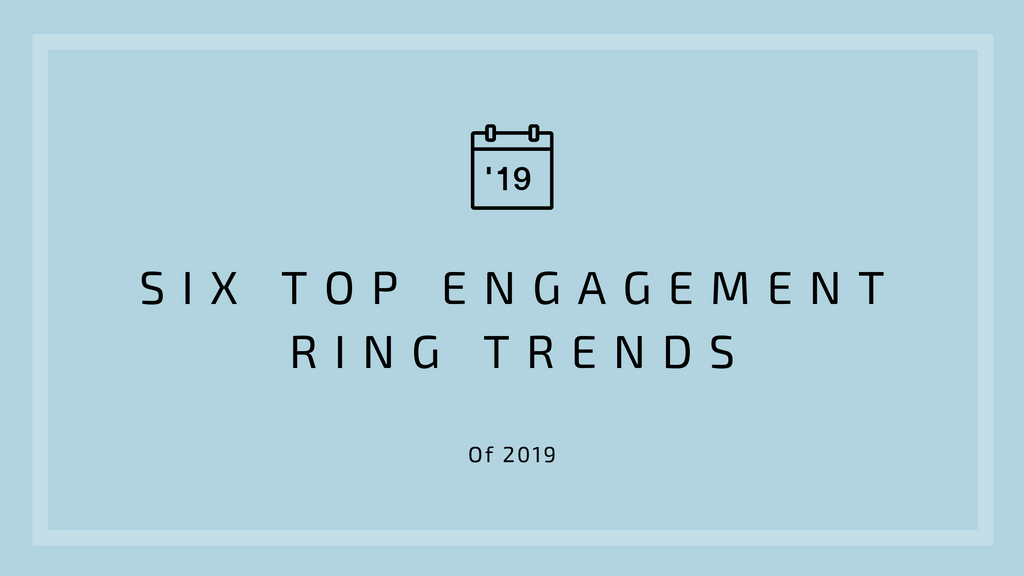 Whether you're ready to get engaged or celebrating your 25th wedding anniversary, perusing the sparkly goodness of engagement rings is always a welcome pastime. Since we consider ourselves experts in this arena (we've masterminded many an engagement with our customers), we did a little research to keep you ahead of the golden curve for 2019.
The good news is that jewelry trends last longer than fashion trends, and can be customized to suit your very own unique personality and style. That being said, it can be a daunting task to narrow down what you're looking for when so many options are available. These trends don't have to dictate your selection process, but they are a great guide to narrow down your likes and dislikes.
1.Coloured Stone Engagement Ring Styles
Always the best way to stand out from the crowd, a coloured stone packs major wow factor no matter the size. While coloured diamonds can be pricey- sapphires are the most popular non-diamond option, and stones like tsavorite garnet and this delicate morganite are beautiful options as well.
2. Art Deco Engagement Ring Styles
Most of us have hopped on the vintage train in some way or another when it comes to home and fashion, and jewelry and engagement ring styles are no different. The most popular era to be revived is art deco - think hexagonal, square, or asymmetric shapes, and stone clusters.
3. Pear Shape Diamond Engagement Rings
Had Carrie Bradshaw seen her pear shaped engagement ring in 2019, she wouldn't have reacted the way she did in 2001. Despite fluctuating jewelry trends, pear or marquise-shaped diamonds have been loved for years - Victoria Beckham's stunner is proof of their timelessness. Marquise or pear-shaped diamonds are also an economical alternative to a traditional diamond, in that they boast a bigger look than they actually are.
4. Yellow Gold Engagement Rings
With the major yellow gold trend still going strong in fashion and home decor, it's no surprise that yellow gold is making a comeback in fine jewelry. We love this round double halo for its combination of both yellow and white gold - a perfect way to satisfy two classic styles!
5. Single Stone Solitaire With a Slender Band
The fashionable wave of minimalism is back on trend with this modern take on a classic solitaire. The slender band looks especially beautiful in rose gold, or set with diamonds, and is perfect for the modern bride looking for a polished piece she can wear for a lifetime. Our favourite classic?
6. Alternative Diamonds
Some ladies prefer an alternative to diamonds, for budgetary or other reasons. We are big fans of Moissanite for its diamond-like properties, and exceptional brilliance. (did you know moissanite has a higher refractive index and therefore sparkles more than a diamond? Read more about this special stone here) This Gabriel & Co Moissanite 14K engagement ring is a great example of this.
Lab-grown diamonds are gaining in popularity for their sustainability and economical factors - a great option worth exploring in any type of ring setting.
Looking for more inspiration? Visit our
fine jewel
ry collection and get ready to start Pinning your heart away!