Thoughtful Holiday Gifts From True Bijoux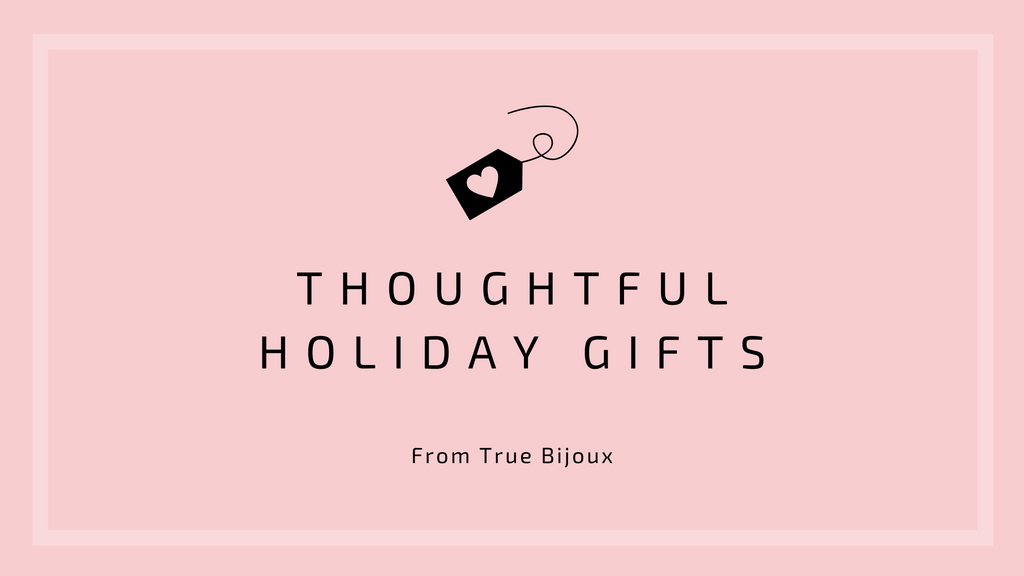 Is there any greater pleasure than catching the look on someone's face as they open a gift that is truly unique and thoughtful, gifted to them by non-other than yourself?

We don't think so. Besides the fact that it's nice to be on the giving end of things, we know you are likely looking for thoughtful, unique Christmas gifts this holiday season. We may be a bit biased, but it's no wonder why jewelry often tops the list of personal Christmas gifts.

To help you go above and beyond with your jewelry selection this holiday season, we've rounded up some of the most special ways you can incorporate unique, personal jewelry into your thoughtful gifts this year.

Vintage & Estate Jewelry:
Not only is this a sustainable gift idea this holiday season, buying vintage or estate jewelry offers the magic of times past - this is one of the few gifts that transcends time. Buying vintage or estate jewelry also ensures that the gift you're giving is truly unique - nobody else will have anything like it. Finally, vintage or estate jewelry is just as good for your wallet as it is for the planet - vintage or estate pieces offer the opportunity to own jewelry with impeccable pedigree without the high price tag. Click the image below to browse our vintage and estate jewels. 
Repurposing an Heirloom:
Did you know we have a goldsmith and jewelry designers on site who can turn a special heirloom into a piece that your special someone will love and wear forever? This is a beautiful way to pay homage to family history while offering a like-new gift. We encourage you to stop by and chat - we love creating lasting memories as well as beautiful jewelry.
Custom-Design Your Own:
Our designers and goldsmith also love creating jewelry from scratch to create your own new memories with a special piece of custom made jewelry. There is nothing more unique than a piece that was especially made with love for your special someone.
Get it Engraved:
Are you a minimalist who is cutting back on consumerism this year? Are you on a tighter budget but want to offer a gift that is full of love and be kept from years to come? Getting a cherished piece of jewelry or favourite accessory (like a watch) engraved is a simple, but very impactful gift idea. Visit us in store to see what your engraving options are - we'll even help you with ideas to temporarily whisk the piece away without your recipient noticing! ;)

 
Local Love:
Purchasing from a local business is a great way to support your local community, and is another way to ensure you are gifting a unique, one of a kind style. Our in-house lines Bijoux Oro, Bijoux Love, Petit Bijoux feature hand-selected styles ranging from traditional to contemporary. Some were also made in house, so you know you're offering a locally-made gift.